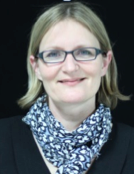 Client Relationship Management
Ali has 25+ years' experience in helping accountants and lawyers win better business through investing in long-term client relationships. She has worked in-house with some of the leading client development teams, at PwC and as a former Head of Business Development with Allen & Overy. Her clients range from Magic Circle through to highly regarded niche law firms.
As an established Client Relationship Manager, she has led international client teams across all business sectors. Ali helps her clients follow a "business partner" approach which focuses on offering business value above and beyond day-to-day professional advice.
« Return to Meet The Team section