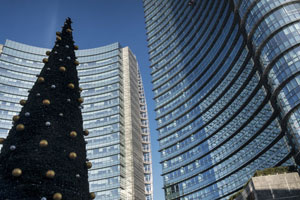 The end of the calendar year and run up to the festive holiday often marks a frenetic time for professionals.  Along with meeting work deadlines before the holiday, it's a popular time to meet up with valued contacts and clients to thank them for their business and support.  On top of this, there is usually an increase in a number of festive gatherings and networking events to attend.
Despite all this 'busyness', the season does present professionals with many good business development activities. Managed carefully these can create new work opportunities to get the new year off to an impressive start.
In this article we share some practical ways to be more strategic and savvy with your festive activities and in turn create opportunities to put your 2018 new business pipeline on a strong footing.
Make the most of festive gatherings
External events
For the externally-run festive gatherings you are invited to, it's good to use the opportunity to have more forward-thinking conversations with people as well as finding out how their current work and year has been.  If you can explore what people's views are regarding the year ahead, what they are preparing for, hoping to achieve or are concerned about, you may be able to find ways to support them – either through your own firm's offering, or your wider network's.
Any opportunity to add value will be remembered and build rapport with them.  If it's difficult to offer support this side of the festive holiday, why not schedule a session with your contact in the New Year to discuss potential solutions when they are refreshed from the break?
Another way to add value at festive gatherings is to introduce clients and contacts to one another, if it would mutually benefit them.  Ahead of an event, consider who may be attending and who it may be good to bring together.  It helps if you have a good understanding of both contacts and what benefit they're likely to gain from each other.  Wherever possible, create meaningful and helpful introductions.  People are more likely to reciprocate if you do.
One final point about the festive gatherings you are invited to, don't forget to create space in your diary in the following days to follow up the contacts you've met and discussions you've had. If you leave it to the New Year people may forget the conversations you've had.
Office parties
Tempting though it may be just to let your hair down at the office party, these events can help you forge stronger relationships with other departments who you may be able to develop cross-selling opportunities with.  At these internal social events make an effort to go and chat with colleagues you typically have less contact with during the year, or don't really know.
As well as finding out about their work and successes, mention how you help clients.  Do either of you have similar clients who could benefit from the other's approach? Where possible, broaden other teams' perceptions of the value you can bring to their work and clients.
Know your clients' priorities and add value
Just like you, clients will be busy trying to complete certain 'to-dos' by the festive break.  This presents you with an opportunity to offer an extra pair of hands and valuable support at a challenging time.  Discuss then what their priorities are in the run up to the holiday. Can you or others in your firm help?  Also what deadlines and priorities will they face when they return in the New Year?  Can you help in some way to give them a head-start so they can have a good worry-free and restful festive break?
Be mindful though not to over-promise and under-deliver at this busy time.  Do double-check client deadlines to identify what does and doesn't need completing by Christmas. You don't want to let people down.
Be more strategic with end of year client reviews and thank you's
As well as thanking your clients for their business and acknowledging past assignments, use the end of year contact to also have more strategic discussions.  Check that they've been happy with the way you and the firm have handled their work and the relationship in 2017, and canvass any suggestions for further improvements you could make.
Also explore what's on the horizon for them in 2018 – for example how is the market looking, what are their customer trends?  What opportunities/challenges will they be working on in the year ahead?  This is a natural time for people to look back and look forward.  Many will be considering the forthcoming year and what they want from it.  So make sure you know your clients' business and, where possible, personal goals so you can better support them in 2018.
Acknowledge those who have sent work to you this year
Even though it is a very busy time, you will encourage more referrals in 2018 if you send a personal acknowledgement to those who have sent work in 2017, rather than a generic one.  Use the opportunity to touch base with contacts who you may have not spoken to for some time and explore how things have been going for them.  Can you find any further ways to add value to them?
If people's diaries are busy up to the holiday, diarise catch ups now for the New Year when there are often more free windows. It does pay to set a date now before diaries fill up and the January work-load gets too busy.
Summary
Whilst it is tempting to just keep your head down and focus on your to-do list and deadlines in the run up to the festive holiday, the season does afford many business development opportunities.  The key is to be more strategic and forward-thinking with your conversations with clients and contacts. Tap into a common desire to reflect and plan for the year ahead.  It is also important to strengthen your relationships and add value where you can.  The more opportunities you can create to build goodwill, rapport and increase your understanding of clients and contacts the stronger a position you'll create for winning work from them in 2018.