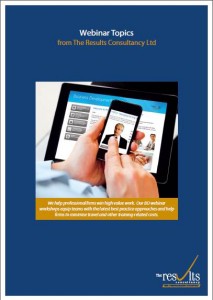 Over the last month we've seen a rise in enquiries for our webinar programmes – particularly from international firms.
Webinars are a cost-efficient and highly effective means of sharing BD insight and best practice with multi-territory teams. They have enabled many of our client firms to successfully implement specific BD initiatives simultaneously across multiple offices.
Our webinar programmes blend practical tips and advice-sharing with interactive opportunities for the delegates – such as posing questions in real-time, taking part in polls and seeing work-winning BD approaches in action. We also record the webinars so firms can load a copy onto their intranet/learning resource.
For more information about how to drive BD best practice across your multi-territory teams:
• View our Webinar overview page
• See an A to Z of BD topics we specialise in
• Contact us on tel 44 (0) 20 7488 4419 or email results@winningbusiness.net