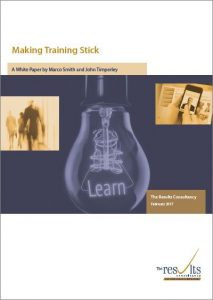 The Results Consultancy are delighted to announce the launch of a new white paper – Making Training Stick.
It arose from a recent event where the Results team brought together a group of senior Learning & Development professionals to debate the challenges firms face when trying to improve the return on investment from training and learning initiatives.
The discussion covered issues such as how can you ensure learning is embedded quickly and easily into the workplace, how do you achieve the results you want through learning and development etc.
Making training stick – sustainable learning
The white paper the discussion inspired shares practical ways to help firms:
make the most of their training budgets, and
change professionals' behaviour to achieve the desired results.
In particular, it discusses three basic but essential building blocks for success.
The learner – what is it that motivates somebody to learn and what inspires them to act on their newly acquired knowledge?
The training design – the degree to which the approach and materials are seen to be personalised, engaging, beneficial and relevant.
The firm's culture – put simply, some firms foster a learning culture and others don't.
Feedback from the Learning & Development Community
The paper, written by Marco Smith and John Timperley, combines key points from the discussion, along with additional research  conducted with experts in the professional services Learning & Development community worldwide, The Results Consultancy's own experiences and other published research on the topic.
Commenting on the paper, John Timperley, said 'We've been delighted by the enthusiasm people have shown in sharing insight as we researched this topic.  In the white paper we have aimed to give both high level insight into the three ingredients of success, as well as practical ideas that have been proven to make training more 'sticky'effective in professional firms.'
To receive a copy
To receive a complimentary copy of the white paper, please contact the team or call 44 (0) 20 7488 4419 or email results@winningbusiness.net