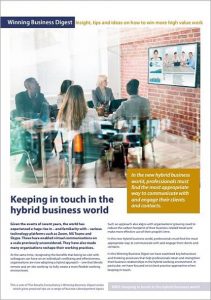 As a result of recent years' events, virtual communications platforms such as Zoom and MS Teams have helped many organisations to reshape their working practices.
There has also been a recognition of the benefits that being 'on-site' with colleagues can have on an individual's wellbeing and effectiveness.
Subsequently, and as many countries ease their restrictions in response to the pandemic, organisations are now planning for and adopting a hybrid approach. This is one that blends remote and on-site working to create a more flexible working environment.
Such an approach also aligns with organisations' growing need to reduce the carbon footprint of their business-related travel and make more effective use of their people's time.
In this new hybrid business world, professionals must now find the most appropriate way to communicate with and engage their clients and contacts.
In our latest Winning Business Digest we have examined key behaviours and thinking processes that help professionals retain and strengthen their business relationships in the hybrid working environment. In particular, we have focused on six best practice approaches when keeping in touch.
What to expect in the Digest
In the Digest you will find helpful advice from Results Consultancy Associate Director – Andrew Warren – on:
How to identify added-value reasons for getting in touch with your client or contact
Which touch points are likely to resonate and engage their interest in the current environment
Key considerations for relationship-building the new working landscape
If you need help with your business development or client relationship skills in the new working environment, please contact us.  The Results Consultancy team provide coaching, online training and e-learning resources.