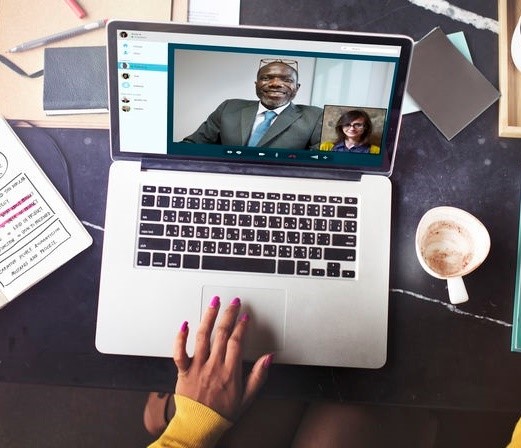 The current global situation and the need for remote working has led many of us to rethink how we manage our client and contact relationships and work.
Now more than ever, your clients and contacts need advice, and support to navigate their way through challenging and unchartered circumstances.
In this article we have shared ways we've been discussing with professional services clients to help them maintain and strengthen their working relationships remotely, and in a practical and effective way.
The key point about these tips is that we all know most of this… but are you and members of your team actually implementing the ideas and building them into your new way of working in a robust and systematic way?
Maintain face to face contact through meeting software
Of course, online meeting software is widely available and affordable both on PC and phone.  Move face to face meetings online ones using the likes of Zoom, Hangouts, Teams, Skype or other phone/video conferencing etc. If you're unfamiliar with the technology, get some training on it or train yourself so that you use the full functionality relevant to your work.
Don't be shy when you do.  Use the software's video option so you and your contact can see each other – it will encourage a broader and more valued conversation than one done by phone. Click the video option and don't worry if you are in your home casuals. Do though take a tip from those who present webinars regularly; get the background right – a plain wall is best, not your washing line or kitchen sink.
Think – is email the right option?
With more people working remotely, it's likely email communications will be heavily relied on (and inboxes are full already!).  Agree alternative ways to keep in contact with colleagues such as messaging (if appropriate) in apps such as LinkedIn, WhatsApp, Yammer etc. These particular apps let you leave both voice and text messages.
Diarise short calls – and send a meeting invitation
It's good to call, but you want to make sure you get through to your contact when you do.  Fix short (say 15mins) calls in the diary with your contacts and send a calendar invite. That way both you and they are available, and you'll make the best use of your time.
Those professionals who have already built this approach into their way of working have found it highly productive. What's not to like with short, punchy, discussions with a deadline (your/their next call)?  Try it and see what we mean but remember the implementation point at the start.  There's no point in knowing about it if you don't do anything about it.
Offer support, help and value where you can
As a trusted adviser, you need to be alert to the current situation's impact on your clients and contacts and offer support where you can.  Keep in touch via phone, email, LinkedIn, messaging apps etc to see how they're coping – both practically and emotionally. Consider ways to offer or share any insights, guidance and support which can help. If your contacts are based in a different region of the world, you can act as a valuable set of eyes and ears in your territory – alerting them to developments and giving a reality check if information they receive via their local news channels isn't clear.
Keep momentum and focus with online seminars, training and events
This is the new area, and one that will be grasped by the most proactive firms.  Many are already offering advice webinars, Q and A sessions and even online training for clients in the form of 'live streaming' of events (partner conferences being just one example, as well as live and recorded webinars. The current situation obviously brings considerable new challenges which organisations haven't had to deal with before.  Advice and guidance and even a 'sounding board' from advisers will be greatly sought after. Make sure you and your firm are visible and valued for their support.
Keep the business focus in practical ways – create collateral to help clients
If you can't run webinars, share timely, relevant insights and help in the form of articles, guides, factsheets, infographics, videos, podcasts etc.  As well as emailing them to contacts, also consider a wider circulation of these to help raise your professional profile.  Having these assets available on your firm's website and social media channels will help you to reach a wider audience.
Think one or two steps ahead of your client – be commercial and practically positive in the process
Adopt an even sharper commercial mindset. Put yourself in your client's shoes and think what they may need to do next in their work, on the project or in the commercial environment. Identify those specific things, be proactive, set up a call and share your thoughts and help.  There are lots of things we can't control, but focusing our minds on the practical things we can do to help clients is one thing we can do something about, have personal control over, and be positive about.
Some quick-fire ideas to be valuable to contacts
1. Make introductions of contacts who can help – this is not business as usual so offer to introduce valuable professionals you know to your contacts.
2. Share ideas that others are implementing in the current climate (without breaking client confidences).
3. Keep them updated relevantly on progress on things on your mutual agenda – using the most effective medium.
4. Alert them – what do you know that they will need to know and act on quickly? Call/Skype/WebEx or conference call and be good at setting things up quickly and efficiently. Have something valuable to say.
5. Check on what's happening for them – have empathy and be personal; in your behaviour be the 'trusted adviser' you would like to be.
6. Invite them to an online seminar, training or event on a topic they're likely to interested in.
7. Offer help or the use of resources, if you know they are struggling.
8. Pass on useful information – forward on things that come across your desk/inbox that will be useful to others and it is appropriate to pass on.
A call to action
Now more than ever, organisations will rely on the advice and guidance of advisers to help them successfully navigate through the next months.
Remote working doesn't necessitate that you should pare back on your business development and client relationship management.  Far from it. Now is the time to intensify keeping in touch and supporting your contacts, in a tailored, bespoke and individual way.
As social beings, people will appreciate this remote interaction and dialogue with you – particularly if we and they are having to work remotely for some time.
As we said earlier, we know this 'stuff' but it's good to take half a step back and say 'yes, but am I doing it'?
If you need help adjusting your business development and client management approach in the current climate, contact us to learn more about our online coaching, webinars and e-learning resources.
Free webinar
We are running a free webinar with more tips on business development and client relationship management in the current climate on 24 March 2020 at 12.00 noon UK time.  If you would like to book your place, click here.
Authors: John Timperley and Michelle Daniels