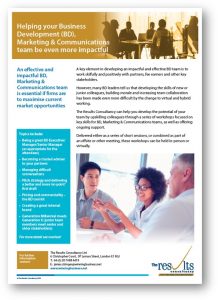 Effective and impactful BD, Marketing and Communications teams are essential if firms are to make the most of current market opportunities.
Key to this is for those teams to work skilfully, proactively and positively with the firm's partners, fee earners and other significant stakeholders.
Developing the necessary skills of colleagues, building morale and increasing team collaboration has however been made more difficult by the hybrid working environment.
In response to this, The Results Consultancy has designed a new range of workshops to specifically develop BD, Marketing and Communications teams' potential by upskilling colleagues in key areas.
Workshop topics include:
Being a great BD Executive/Manager/Senior Manager (as appropriate for the attendees)
Becoming a trusted adviser to your partners
Managing difficult conversations
Pitch strategy and delivering a better and more 'on point' first draft
Pricing and commerciality – the BD tool kit
Creating a great internal brand
Generation Millennial meets Generation X (junior team members meet senior and older stakeholders)
Short practical sessions
The workshops can be delivered either as a series of short sessions, or combined as part of an offsite or other meeting. They can be held in person or virtually.
Expert facilitators
The workshops are led by James Stringer – a former Business Development Director, board member and BD leader in Magic Circle, International and Big Four law firms.
Where required, James is supported by other members of The Results Consultancy faculty, including Managing Director John Timperley.
Or contact James Stringer on E: james.stringer@winningbusiness.net  or T: 44 (0) 20 7488 4419