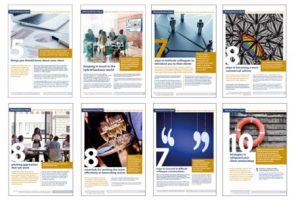 Newly revamped for Autumn 2023, our popular Winning Business Digests give practical tips and insights for busy professionals.
These 4-page digital digests share easy-to-apply tips and the latest advice for over 45 business development, client management, financial management, networking, pitching, self-development and team management topics.
Over 45 digests to choose from
Available in a pdf format for desk-based and on-the-go viewing, the digests come in handy in various ways.
For example:
Add them to your firm's learning management system or knowledge portal
Share them via internal skills development e-mail campaigns with colleagues
Build them into team discussions and meetings
Incorporate them into training resources as pre, during or post-course/coaching reading
Make them available on a just-in-time basis for quick tips when professionals are on the go.
 To cater for different budgets, the Digests are available to purchase in a range of bundle sizes.
Or contact John Timperley on E: results@winningbusiness.net  or T: 44 (0) 20 7488 4419