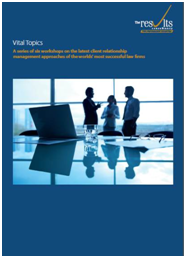 The Results Consultancy has just launched a new series of workshops focused on the latest client relationship management approaches in the professional services sector. Each highlights strategies that are working to generate additional client revenues and protect client relationships.
The Vital Topics series covers:
o
How to bring real innovation to your client relationship management and stand out in an increasingly crowded market

o

How to build competitive advantage through client relationship reviews

o

How to create added value that secures client loyalty – current 'best practice' strategies in the legal sector

o

How to manage relationships with procurement to win and retain high value work
This overview of the workshops gives more detail. Each Vital Topic been designed to last 2.5 hours and can be run for groups of up to 20 delegates. The sessions are facilitated by Ali Hellewell who is a former Head of Business Development at Allen & Overy and Claire Offord, former Head of Client Service at Clifford Chance.
We have also found that shorter versions of the topics in the series also make very good sessions for:
o
Partner conferences

o

Team away-days

o

Webinars (eg for geographically spread BD teams)

o

Lunchtime 'brown bag' sessions
Contact us for more information as we'd be very happy to talk you through the content areas in a bit more detail