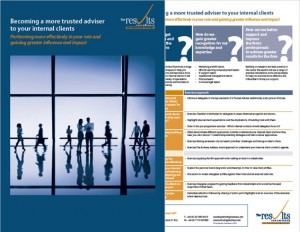 In addition to the partner and fee-earner training The Results Consultancy delivers, we are increasingly being asked to help professionals in support functions also.
Be it BD and Marketing, HR and Learning & Development, IT, Operations, Finance or In-house Legal teams, professionals in these areas have to secure buy-in from their 'internal' clients in order to perform effectively in their role and implement the tasks, projects and initiatives.
From our research, support teams typically encounter four challenges:
1. Gaining Partner and fee-earner buy-in for the projects they're involved in
2. Securing greater recognition in the firm for the knowledge and expertise they can bring
3. Being influential and having personal impact when dealing with Partners and senior professionals
4. Supporting the firm's professionals in a way that achieves greater results for the firm
A new half day practical workshop for in-house teams
We have developed a half day workshop to help individuals and teams with practical strategies for dealing with these challenges.
The Becoming a more trusted adviser to your internal clients programme gives guidance through practical simulations, tools and examples to enable support professionals to build greater credibility, rapport and influence with those they support – and in turn be more effective as a team.
See this overview of the programme
The workshop is designed for groups of up to 15 delegates at their firm's premises or another venue of their choice.
Additional sources of help
We have also delivered aspects of the content at support team away days and conferences and through webinars for cross-territory teams.
For more information: contact us or telephone: 44 (0) 20 7488 4419