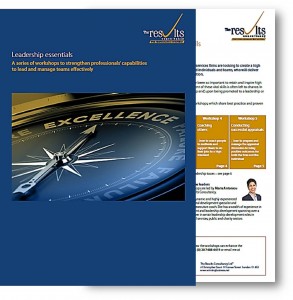 To compete effectively in a crowded advisory market, professional services firms are looking to create a high performance culture. This relies on highly motivated and engaged individuals and teams delivering outstanding results to help their firm stand out from the competition.
Good leadership and management capabilities have never been so important to retain and inspire high performing individuals. Good leadership requires skill, yet the development of these vital skills is often left to chance.
In many cases we've seen professionals literally being 'thrown in at the deep end', upon being promoted to a leadership or managerial role, and simply expected to swim successfully.
We are therefore delighted to announce the launch of 5 highly practical Leadership Essentials workshops.
Led by Results Consultancy Associate Director, Maria Antoniou, the workshops share best practice and proven leadership and management approaches of successful firms. They vary from a half day to a full day's programme, depending on the topic, and are designed for groups of up to 20 delegates at their firm's premises or another venue of their choice.
Download our Leadership Essentials Brochure, which gives more detail about the workshop topics and approach.
To talk through the workshops in more depth, contact us at email: results@winningbusiness.net or tel 44 (0) 20 7488 4419