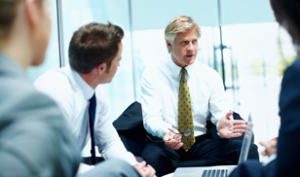 You probably know the well-known fact that if you give a 10% reduction in the top line fees (revenues) on a matter it has the effect of a 30% hit on your bottom line profit for the job. If you don't believe us, check it out with your finance team.
Struck by this, and recognising the critical importance of maintaining profitability on assignments, we have developed a half day workshop.    
The 4 critical stages where profitability is lost
The workshop is focused on helping partners and senior professionals manage those 'critical client conversations' that are essential if assignments are to maintain the level of profitability the firm requires. It is highly practical, interactive and focuses on the strategies partners and senior professionals can adopt at each of the critical stages where revenues can easily be lost:
1. At the start of the work when negotiating fees and scope with the client
2. When the scope changes and the client needs to be informed of extra cost
3. When the bill is prepared and submitted to the client
4. When chasing unpaid or disputed invoices
If a professional performs well and stands their ground at each of these critical client conversation points they are likely to be successful in maintaining profitability; if they don't, with every concession they make profitability is badly hit.
Handling critical client conversations with integrity
The question is, how do you have the conversation with the client in a professional manner, with integrity, whilst protecting your position and maintaining the relationship? This programme provides food for thought on approaches to take that have worked for others. An overview of it can be found here.
If you are interested in finding our more – or perhaps running a pilot programme – please contact us on tel 44(0)20 7488 4419 or email results@winningbusiness.net