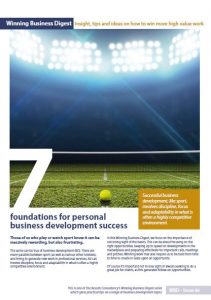 Successful business development, like sport, involves discipline and focus.  In an increasingly competitive and changing environment, it also requires adaptability.
In our latest Digest, 7 foundations for personal business development success,  Andrew Warren gives a helpful and timely refresher of the basics for effective BD.
Mastery of these foundations enable a professional to distinguish themselves in the market, build a strong network and successfully convert new work opportunities.
As many professionals look…