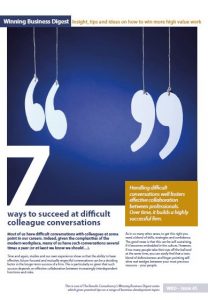 Most professionals have to hold difficult conversations with colleagues at some point in their career.
The ability to have effective, future-focused and mutually respectful conversations can in fact be a deciding factor in the longer-term success of a firm – and an individual.
This is particularly so given that such success in today's firms depends on effective collaboration between increasingly interdependent functions and roles.
To turn difficult colleague conversations into a beneficial experience for…