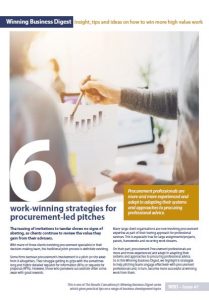 The issuing of invitations to tender shows no signs of abating, as clients continue to review the value they gain from their advisers.
Procurement-led pitches
With many of those clients involving procurement specialists in their decision-making team, the traditional pitch process is definitely evolving.
Some firms bemoan procurement's involvement in a pitch (or shy away from it altogether). They struggle getting to grips with the sometimes long and highly detailed requests for information (RFIs) or requests for proposal (RFPs). However, those who persevere successfully often come away with great rewards.
Many large client organisations are now involving procurement expertise as part of their buying approach for professional services. This is especially true for large assignments/projects, panels, frameworks and recurring work streams.
Procuring professional advice
On their part, procurement professionals are more and more experienced and adept in adapting their systems and approaches to procuring professional advice.
In our latest Winning Business Digest, we highlight 6 strategies to help pitching teams engage effectively with procurement professionals and, in turn, become more successful at winning work from them.
Please contact us if you would like to receive a complimentary copy or to find out more about our training, coaching and pitch support work in this field.