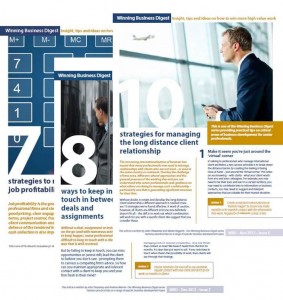 Over the last two years our Winning Business Digests have shared practical tips for tackling a broad range of business development issues.
Each month we take a closer look at a specific aspect of BD in the professional services and give a range of simple but effective activities in order to tackle them.  You can see a list of past Digests here and download some.
What topics interest you?
We're now looking ahead to future issues and are planning our Digests for the end of the year and into 2015.
Topics we plan to cover include Managing the difficult client conversations that affect your assignment's profitability, Presenting an effective pitch, Working the room at a networking event and Dealing effectively with procurement professionals. But we also want to focus on BD topics that are most pertinent to you and we'd be really interested in your suggestions.
If you'd like to see a Winning Business Digest on a specific issue, or would like to learn more about these publications, please get in touch.