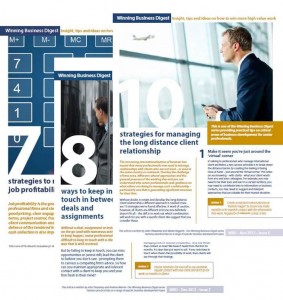 We know how time consuming and costly it can be for Business Development and Learning & Development teams to support their professionals with practical business development and client management advice.
In response The Results Consultancy team has produced over 40 Winning Business Digests. Each is based on research into current best practice BD approaches in the professional services and shares advice and tips from recognised specialists.
The series covers issues relating to networking and profile raising, business development, pitching, client management and team leadership. Review the current titles via our Winning Business Digest page and trial a few.
Practical BD guidance
We are now offering firms the opportunity to buy packages of these titles to upload onto their intranet, learning management systems or internal BD portals. You can even brand them with your own logo should you wish.
The suite of Winning Business Digests gives busy professionals access to quick and practical BD guidance as and when they need it.  They also free up BD and Learning & Development teams' time from the challenges of content creation, so they can focus on other areas of strategic advice.
If you would like to discuss how your firm's professionals could benefit from this practical BD resource, please contact us on tel. 44 (0) 7488 4419.