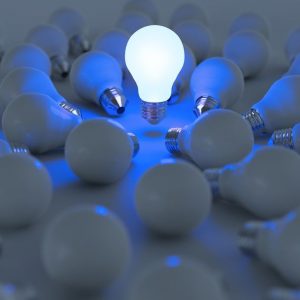 With just three months left of 2017, many professionals have an eye on their annual plans and targets. For some there may be a need to create new work opportunities and generate additional revenues in what's left of the year.
Such opportunities may come simply from spotting additional ways to add value to clients, or they may rely on converting business from potential clients.  They may even flow from packaging different facets of expertise in the firm to engage with a new market or a specific potential client profile.
Given the fast pace of the world we live in, and changes in buyer motivations, needs and behaviour, it certainly pays for firms to be agile.  Spotting an opportunity in a market and responding quickly to convert it, will build significant success over time.
So how can you foster innovation amongst your team?  How can you stimulate ideas and in turn convert them into revenue? First of all it's important to know where commercial ideas, which are easier to convert, are likely to flow from…
Your clients
Finding ways to add greater value to clients, is a quick-fire way to increase their investment in your firm.  Call on your firm's team for a specific client and hold an internal strategic review session which discusses:
What is the client currently focused on and/or struggling with?
How can we help the client be better at what they do (individually, departmentally and organisationally)?
What are the latest trends and developments which will affect them?
What can we learn from the experience of clients in other sectors?
How can we better support their strategic plans?
Your colleagues
It's likely you will have colleagues who have converted a new work opportunity which you could replicate or offer to your clients.  Find out then:
What successful approaches have we made in one sector that could apply to another?
What successes colleagues have had with clients recently? Are any relevant to other client groups across the firm?
How could we be more efficient, better to work with, more relevant to our clients, cost-effective etc?
Get inspiration from others
This is about looking objectively at others in similar and non-related industries to spot ideas and new approaches. Consider then…
Who do we admire, in terms of their corporate agility, flexibility and ability to get new products and services to market? How do they achieve this?
What more can we do to make our approach different and better to that of our competitors or fellow professionals? (Quite often this comes down to the way people engage with their clients and how they use their knowledge effectively).
Developing the idea
Coming up with an idea is only the first phase in the revenue-generating process.  The main challenge comes in converting that idea into reality – and a reality which has commercial advantages for your firm. Bear in mind that developing the idea will involve:
Creating a plan for producing the product/service and executing it.
Driving the initiative forward and project-managing it through the various steps in its evolution.
Collaborating and influencing people to ensure the project completes successfully and profitably.
To help you ensure the process is indeed quick and effective read our Digest:
It talks through:
Different ways to get buy-in within your firm to ensure the idea comes to fruition.
How to convert the idea into a commercial proposition which does indeed generate client interest and an appetite to buy.
How to roll out the idea to warmer prospects who are more likely to be receptive to it.
And finally…
Sometimes professionals give up on ideas and go back to the day job 'too quickly'. Remember, you don't have to be alone in your business development. Be willing to expose your ideas and opportunities to others. Use them as a sounding board for advice, for views and 'friendly challenge'.
Similarly, respect that converting ideas into revenue takes time and perseverance.  Ensure you remain in the driving seat and don't let procrastination (personally and across the firm) let a competitor gain the edge on your idea.  Find champions and supporters within the firm who will actively support and co-develop the idea with you so it can come to fruition as quickly, effectively and as profitably as possible.
With time ticking down to the end of the year, now's the chance to take your idea and run with it!  Do it now so you end the year on a high.