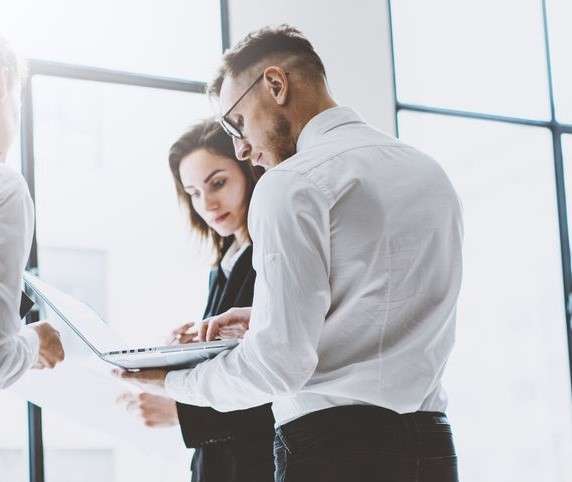 The summer holiday season often gives professionals some quieter time to review how their client relationships are developing.
During busy times much attention is diverted to tasks and projects at hand.  Whilst it's important to deliver as promised, if a professional doesn't adopt a wider outlook they may miss valuable insight or potential opportunities for client work in the long term.
To build trust with a client and maintain their loyalty, professionals appreciate that they must invest time to understand that client's business and personal goals.  Time and again 'client listening' research reveals a client desire for advisers to 'really understand our business' and present advice 'tailored to our situation'.
Of course the typical portfolio of a successful professional often comprises multiple clients; so how can you build a comprehensive understanding of each in the time you have available? What key pieces of information are vital to your client relationships – and where can you get them?
In this article we have focused on 2 key things you should know about your client. These form a good foundation from which to build business-related discussions – either to ensure that existing projects run more effectively, or to help you propose new services, expertise or advice to the client.
1. Their current news
By keeping an eye on your client's current news you can demonstrate your genuine interest in their business or professional life and emphasise your commitment to them.
Whilst this knowledge will impress and reassure your client contacts that you are close to them and 'on their wavelength', it will also help you to spot issues that may benefit from your firm's additional support or advice.
Insight from your client's current news will equip you with relevant topics to build conversations with them. It will also guide you on which of your firm's publications, event invites and thought leadership to send as a valuable 'touch point' when developing the relationship.
Sometimes a news item on the client can alert you to an issue where they may need your help, or the advice of one of your contacts. The resulting 'I spotted that you were…' telephone conversation or email will not only demonstrate your proactivity in supporting the client, but also make it easier for you to offer relevant expertise to them.
To find your client's news look at the pages on their website and sign up to receive their newsletters, publications and event invites as well as notifications from their business-related social media pages.
Periodically search on their name in their industry publications' sites, and set up a Google Alert on their name or visit FT.com and other news sources for more sophisticated alerts.
2. Their now priorities
This is about getting to grips with the issues your client's business, your contacts and their teams are currently focused on. Knowing their 'now' priorities will help you to identify, respect and support their current 'to-dos' and agendas, offering the most relevant aspects of your expertise where needed.
Understanding the client's 'now' priorities will also guide you on how best to project-manage and control any assignment you are working on for them. It will influence how you positively contribute to their key deadlines, tasks or budget. By ensuring projects run smoothly and effectively, you will soon develop a reputation for reliability and professionalism.
To emphasise your commerciality the 'now' priorities can also give you the opportunity to proactively recommend improvements or greater efficiencies that will help the client achieve results more effectively.
The best source of 'now' priority knowledge is the client itself, so always ask your contacts directly when you are in discussion with them. Other sources of useful intelligence come from checking out their annual report and website
or asking other knowledgeable contacts for their perspective. Bring your team together periodically to pool ideas, information and insight gleaned from their individual interactions with client contacts.
Summary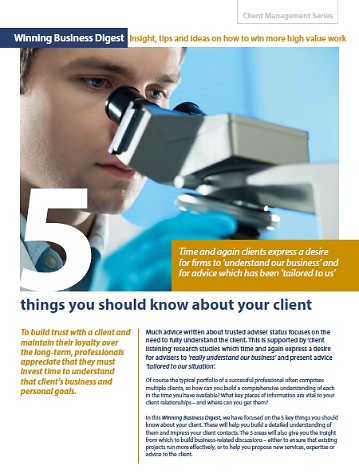 These two knowledge areas give you a good foundation from which to build and nurture your client relationships. They are taken from our Winning Business Digest –  5 thing you should know about your client – and you can view a copy here.
As the professional services arena becomes ever more competitive it will be those professionals who do invest the time to understand their clients and adapt their approach accordingly who will succeed.  What can you find out now to strengthen your client relationships this Autumn?
For further advice about our client relationship management training and coaching, please contact us on tel 44 (0) 20 7488 4419