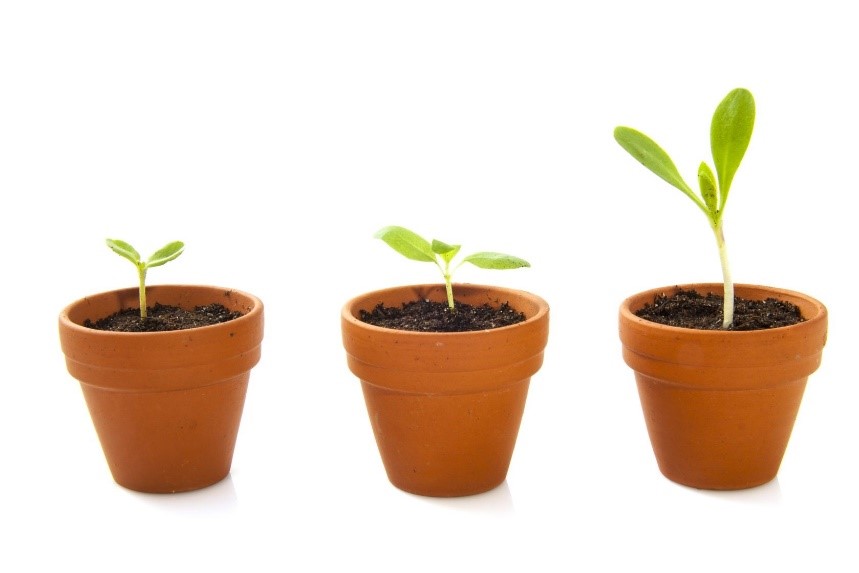 Often the key to a firm's business growth lies in their current client portfolio. Work stemming from existing clients often offers greater profitability through a lower cost of sale and shorter learning curve for the firm's team.
To check you are effectively managing your client relationships and developing opportunities, it's good to periodically review your current client relationships and consider how robust they are.
In doing so, ask yourself if you:
have too many clients for you to manage effectively? If so, can you delegate to members of your team so the client continues to receive and efficient and high quality service.
have strong enough relationships with all of the key decision-makers at your clients? If your relationship depends on one point of contact, it is at risk if that contact then leaves.
know what your client contacts want from the relationship, how they like to work and what their short and long term plans are. This will help you to add value and expand the range of expertise they seek from you and your colleagues.
How to impress clients
With this last point, be mindful that different clients want different things from their advisers at various stages of a relationship.
For some they seek an adviser who will provide a challenge to their thinking or act as an independent 'sounding board' for ideas. Others want their adviser to alert them to timely, relevant information or provide examples of best practice from the same and other industries.
Invariably, clients want to draw on the objective view and experience advisers gather by working with multiple organisations similar to them.  Advisers can add real value here by:
Suggesting alternative approaches and/or strategies based on their experience and observations
Helping articulate benefits and potential pitfalls of courses of action
Helping the client contact shape his or her story/ business case to get approval
Give views on the client's longer term roadmap and/or business plan
Fight a client's "corner" where it is needed
Protecting and developing your client relationships
Key to protecting and developing your client relationships is planning – ideally involving all members of the team who support this client relationship.  A collective approach here helps to strengthen the firm's relationship with all client contacts. It can also ensure you gather and then respond well to insights picked up across the team – spotting and converting opportunities quickly and easily.
Key areas to regularly discuss as a team fall into these 3 camps:
Growing our understanding of the client – covering any changes in their current issues and challenges, developments in their sector, new legislation which will affect them, their future goals and plans and how those are progressing.
Enhancing their experience – being clear of the level of their satisfaction and how to increase it, checking the team structure and approach you have in place is ideal for them, addressing any problems or obstacles.
Analysing our decision-maker coverage – checking good relationships are in place with key decision-makers, identifying what could be done to improve your position with each one, preparing for team continuity and succession.
In discussing these 3 areas, opportunities for delivering added value and developing the relationship invariably arise.
Summary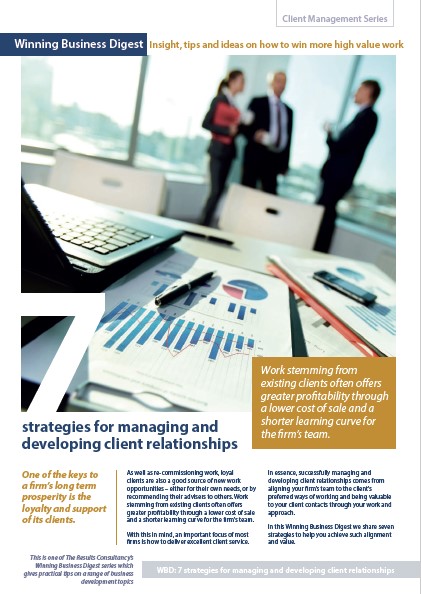 Whatever ideas and approaches come out of your discussion, it is important to capture their actions within a plan that also reflects who is taking responsibility for specific ones and by when.  Only then will you work seamlessly and speedily as a team in enhancing and evolving the relationship.
If you need further ideas, take a look at our Winning Business Digest – 7 strategies for managing and developing client relationships.  It's part of a series of Digests we've created on the topic of client management.
Above all, don't underestimate the value of taking a proactive stance in how you manage and evolve your client relationships.  Your prosperity and your firm's prosperity will depend on how well you do.
For further advice about client relationship management Digests or our training and coaching, please contact us on tel 44 (0) 20 7488 4419