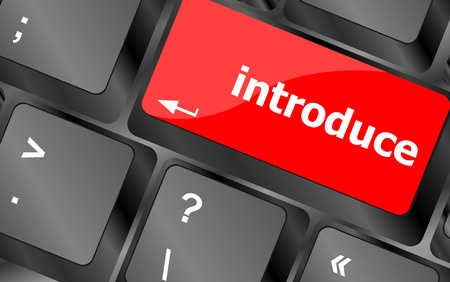 For many professionals investing time in cultivating relationships with colleagues and contacts is time well spent.  One individual can, over time, send many business opportunities your way. Indeed, for some professionals, their referrers are effectively their key clients.
And like a good client, your relationship with a referrer needs careful management.  You want to ensure that they think of you when an opportunity arises, and this requires that you keep in touch with them and have built goodwill with them.
Clarity of the referrals you seek
To generate a steady current of good quality and profitable assignments, it's vital to be clear in your own mind about the type of work you seek.  If you are unsure, your contacts will be unclear about the ideal leads to send your way. Take some time to create a profile of your ideal work assignment in terms of fees, profitability, sector, type of work, Geography, ability to build your brand and so on.
Focusing on the right people
Some professionals we work with are initially hazy about the new business potential locked within their network of contacts.  An important step is to map out the opportunities, as this shows which colleagues and contacts:
Refer the most business to you – and need to be nurtured so their loyalty continues
Are not referring as much as they could – and need some relationship building efforts on your part to stimulate more opportunities
Don't refer, but could – and require a relationship development approach
Refer unprofitable or 'difficult' work – and need guidance on the type of work we're looking for (or to be pointed in the direction of another adviser who might better suit their needs)
Essentials for encouraging initial referrals
People will favour those who get out and meet them, or who become a familiar face at their networking or sector events. They also remember what value you've brought to them, or help you've given.  To encourage contacts to refer business to you, or think of you when an opportunity arises, it is important to keep in touch, but more than that, find ways to help, support and bring value to them in some way first.
Use each point of contact you have to develop and improve your understanding of what is going in this person's organisation, job or even life.  The more current you are; the greater your chances at being able to add relevant and timely value.  Consider ways to support your contacts – perhaps by sending them valuable information or insight, by bringing them a business opportunity, introducing them to someone to expand their network or by alerting them to a forthcoming issue etc.
Don't assume they know everything you do
Sometimes a contact fails to recognise a professional in their network has the expertise and experience for a work opportunity.  Over time, it's helpful to share different examples of the successful assignments and work you've been involved with.  These are best dropped into conversations as examples, informal case studies and stories.  In doing so you will form a clearer picture in your contact's mind of your specialism and the benefits you bring to your clients.
To encourage further referrals
And when you do get a referral, the critical 'must do' is to deliver that work to the highest standard and keep communicating with your referrer. Let them know what's happening, progress and other 'need to know' points so that they don't feel out of the loop. This will help to keep both the client and referrer happy and ensure the latter is comfortable to refer more opportunities to you in the future.
Summary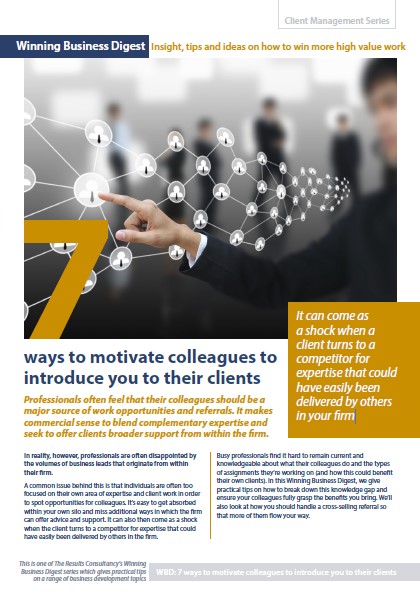 To increase the referrals you receive, be prepared to prove your credibility and value to your referrer contacts.  Remember, their professional standing is on the line in recommending you.  The more value and support you can give to a referrer, the more compelled they'll be to reciprocate.
Be aware that different referrers will require different approaches to build their relationship with you.  The trick is to understand these differences and acknowledge these in the activities you put into your personal business development plan.
You may also find the ideas in this Winning Business Digest – 7 ways to motivate colleagues to introduce you to their clients helpful.  It's part of a series of Digests we've created on the topic of client management.
For further advice about business development or our training and coaching, please contact us on tel 44 (0) 20 7488 4419