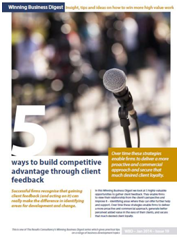 Our Winning Business Digest this month looks at five highly valuable opportunities to gather client feedback. They enable firms to view their relationship from the client's perspective and improve it – identifying areas where they can offer further help and support. Over time these strategies enable firms to deliver a more proactive and commercial approach, generate better perceived added value in the eyes of their clients, and secure that much desired client loyalty.
This digest has been written by John Timperley and Michelle Daniels
Contact results@winningbusiness.net or tel 44 (0) 20 7488 4419 for a copy.