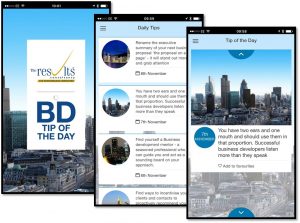 The Results Consultancy team is delighted to announce the launch of our new BD Tip of The Day app.
As you might expect from the title, the app delivers a Business Development tip each day. It's been specifically designed to help busy professionals maintain momentum and take appropriate action in their BD activities.
What to expect from the BD Tip of The Day app
The app's daily tips are designed to bring fresh ideas, as well as helpful reminders, on impactful and 'best practice' BD thinking.
It draws on approaches that are successfully working for other senior professionals. It gives practical tips and ideas on a range of Business Development areas including:
Building and developing your network
Networking
Targeting new business
How to handle meetings with clients and contacts
Pitching for new work
Delivering engaging business presentations
Becoming a more commercial adviser
Raising your profile
Handling effective fee negotiations
Client relationship management
Spotting new work opportunities in client relationships
Adding value to clients and building loyalty
Becoming the Go-To professional
Making the most of client feedback
Users of the app can mark specific tips as favourites, in order to build up a list of them which appeal most to them.
Where to download it:
The BD Tip of The Day app works on Android, iPhone and iPad and you can download it for free via:
For more BD inspiration, coaching, training and e-learning contact The Results Team on +44 (0) 20 7488 4419 or by emailing results@winningbusiness.net