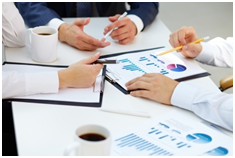 Instilling commercial acumen and effective financial management right across their professionals is a major priority for firms in the current climate.
Balancing the need to win work (often at low margins and with certainty of cost for the client) with internal demands to maintain an acceptable level of profit on assignments is no easy task.
The key pressure points appear to be:
o
pricing the work in the first place and effective scoping,

o

to using the right level of resource to maintain profitability,

o

effective and transparent billing and, ultimately,

o

getting paid within an acceptable time-fame.
We've recently teamed up with professional services finance experts, Ranmore Consulting, to tackle these issues. Our latest Winning Business Digest, 5 Strategies To Develop Financially Informed Professionals – has been co-authored with Ranmore Partner Chris Ward. It gives practical steps on how to nurture a more financially-focused and profitable mind-set across all levels of a firm. Contact us for more information.
Pricing and profitability workshops
With Ranmore we have also developed a suite of pricing and profitability workshops for fee earners and BD teams. They have been specifically designed to train these professionals in how to be acutely aware of the financial drivers of profitability and, just as importantly, how to adopt current 'best practice' approaches to manage the finances effectively. Download this overview of the workshops.
If you'd like to discuss any finance, pricing or profitability challenges on your 'must deal with' list, email us or on tel. 44 (0) 20 7488 4419. We'd be very happy to talk you through some of the case studies where we've helped professional services clients lately.