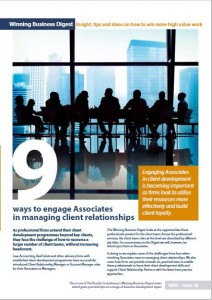 As professional firms extend their client development programmes beyond key clients, they face the challenge of how to resource a larger number of client teams without increasing headcount.
Law, Accounting, Real Estate and other advisory firms with established client development programmes are successfully introducing Client Relationship Manager or Account Manager roles for their Associates or Managers.
In our latest Winning Business Digest Results Consultancy Associate Directors, Ali Hellewell and Claire Offord, explain some of the challenges firms face when involving Associates in client relationship management.
They also cover how firms can provide a hands-on, practical steer to enable these professionals to hone their client development skills and support Client Relationship Partners with the latest best practice approaches.
Contact us for a complimentary copy of the Digest, or to find out more about our training and coaching work for client relationship management