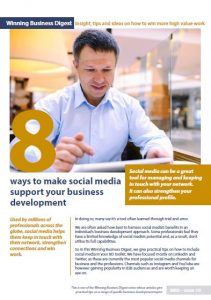 Social media can be a great help to professionals in keeping in touch with their network and raising their professional profile.  We are often asked, however, how best to harness social media's benefits in an individual's business development approach.
Some professionals feel they have a limited knowledge of social media's potential and, as a result, don't utilise its full capabilities.  Others struggle to devote time to social media and worry they are missing opportunities.
It doesn't help that social media channels have a habit of frequently updating their functionality and layout. In the first half of 2016 there were 600 interface/functionality changes alone across the major social media platforms!
In response to these questions and recent changes on the likes of LinkedIn and Twitter, we have updated our Digest – 8 ways to make social media support your business development. It gives practical tips on how to include social media in your BD toolkit.
Please contact us if you would like to receive a complimentary copy or to find out more about our BD training and coaching work on how to use social media in your BD.