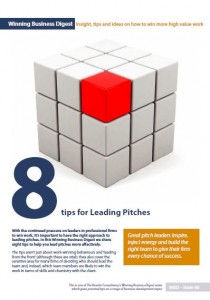 With the continued pressure on leaders in professional firms to win work, it's important to have the right approach to leading pitches.
Great pitch leaders inspire, inject energy and build the right team to give their firm every chance of success.
Our latest Winning Business Digest is co-authored by Francesca Ayers and John Timperley. They share 8 tips to help you lead pitches more effectively.
The tips aren't just about work-winning behaviours and 'leading from the front' – although these are vital. They also cover the sensitive area for many firms of deciding who should lead the team and which team members are likely to win the work in terms of skills and chemistry with the client.
Please contact us if you would like to receive a complimentary copy or to find out more about our pitch training and coaching work in this field.