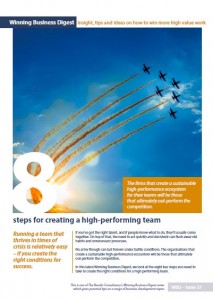 As we head towards the last quarter of the calendar year, professionals often use the month of September as a time to take stock and plan ahead.
For some in a leadership or managerial position, those plans often include aspirations and goals for the teams they lead.
In our latest Winning Business Digest, Results Associate Director – Dan Leatherdale – discusses 8 practical steps to improve a team's overall performance and productivity.
Dan also explains how firms can foster a sustainable high-performance ecosystem to enable teams of successful and highly effective professionals to thrive.
Contact us for a complimentary copy of the Digest, or to find out more about our training and coaching work to develop high performing teams of professionals.