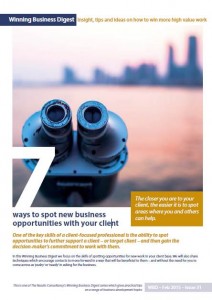 Our latest Winning Business Digest examines the challenge of spotting opportunities to further support a client or target client – and then gaining the decision-maker's commitment to work with them.
This is a key skill of a client-focused professional and requires care to avoid coming across as 'pushy' or 'needy' in asking for the business.
When exploring a new business opportunity with a client there is no need for fancy sales 'closing' techniques in the vast majority of client/professional discussions.
However, the ability to articulate suggested approaches to the client, to give a personal point of view on the benefits and implications of taking action and to provide a 'route map' of what should happen next are all crucial skills when gaining a contact's commitment to move forward.
This month's Digest highlights a variety of areas where new business opportunities can arise and gives three essential elements to secure the client's buy-in to the next step.
Contact us for a copy of the Digest