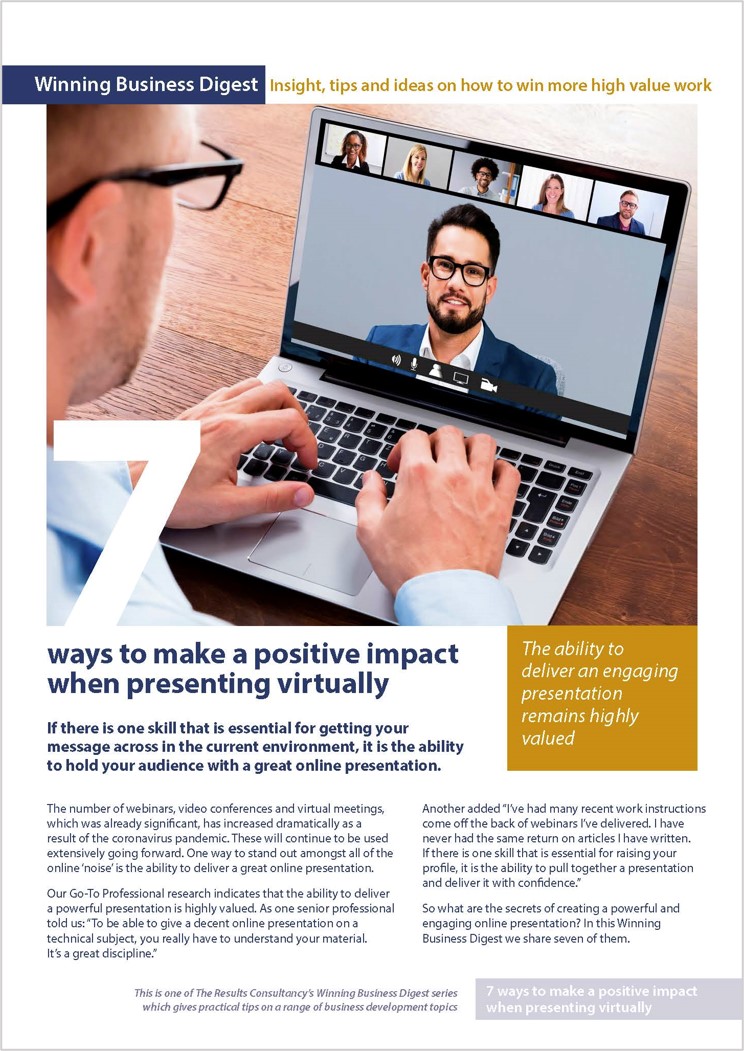 Following on from our recent popular webinar, The Results Consultancy's Andrew Warren and John Timperley have summarised the key tips and advice from the session in a new Winning Business Digest.
Entitled 7 ways to make a positive impact when presenting virtually it reveals the secrets of creating a powerful and engaging online presentation.
The rise of the 'small screen'
The number of webinars, video conferences and virtual meetings, which was already significant, has increased dramatically as a result of the coronavirus pandemic. These will continue to be used extensively going forward.
One way to stand out amongst all of the online 'noise' is the ability to deliver a great online presentation. This means creating a positive impact and impression, and engaging your audience's attention throughout in the 'small screen' environment that many are currently relying on in business.
What to expect
In the Digest you will find helpful advice on:
How best to plan your online presentation's content to engage the audience throughout
Getting comfortable with the technology
How best to practise
Maintaining your energy levels in the digital presentation environment
Techniques to retain the audience's attention
Achieving the desired outcome from the presentation
Summary
Powerful online presentations invariably come from clarity and the ability to get a message across in plain language that an audience understands. The presenter needs to have a good understanding of his/her audience and empathise with them in order to harness their interest and engagement.
They also need to think more broadly, not just about the content of their presentation, but also the overall experience they're hoping to create. What do they want the audience to think, feel and do after the virtual sessions?
If you need help with your presentation, business development or client relationship skills in the new working environment, please contact us.  The Results Consultancy team provide coaching, online training and e-learning resources.