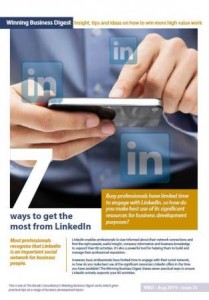 Most professionals recognise that LinkedIn is an important social network for business people. It enables them to stay informed about their network connections and find the right people, useful insight, company information and business knowledge to support their BD activities.
It's also a powerful tool for helping them to build and manage their professional reputation.
Busy professionals have limited time to engage with their business network, so how do you make best use of the significant resources LinkedIn offers you in the time you have available?
In our Digest this month we have highlighted seven practical ways to ensure LinkedIn actively supports your BD activities.
Contact results@winningbusiness.net or tel 44 (0) 20 7488 4419 for a copy.