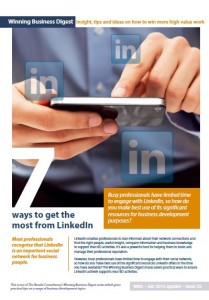 You may have noticed that LinkedIn has made a number of changes to its site in recent months. As a result we've updated our Winning Business Digest – 7 Ways To Get The Most From LinkedIn – to reflect this.
LinkedIn continues to be a great resource which helps professionals stay informed about their network connections and find the right people, useful insight, company information and business knowledge to support their BD activities. It's also a powerful tool for helping them to build and manage their professional reputation.
At the same time busy professionals have limited time to engage with this social network, so how do you make best use of the significant resources LinkedIn offers you in the time you have available?
In our updated Winning Business Digest, 7 ways to get the most from LinkedIn, we have shared a number of tips for existing LinkedIn users who want to do more with the social network in the limited time they have available.
Contact us for a complimentary copy of the Digest or to find out more about our one to one coaching and short LinkedIn training sessions for small groups and teams.