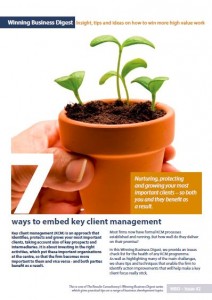 Key Client Management (KCM) is an approach that identifies, protects and grows your most important clients – taking account also of key prospects and intermediaries.
It focuses on nurturing, protecting and growing your most important clients – so both you and they benefit as a result.  This means investing in the right activities, which place these key clients at the centre and ensure your firm becomes important to them… and vice versa.
Most firms now have formal KCM processes established and running, but how well do they deliver on their promise?  How many have been able to cope with the economic uncertainty now around?
In our latest Winning Business Digest, we have provided an issues check-list for the health of any KCM programme.  We have also highlighted many of the main challenges involved, and shared tips and techniques to enable firms to identify action improvements.
Please contact us if you would like to receive a complimentary copy or to find out more about our training and coaching work in this field.