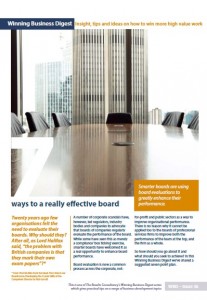 We're delighted that our latest Winning Business Digest is guest authored by Ian White. Ian's background is as a Lawyer, Chief Legal Officer and Company Secretary for both listed & major private companies.
This has led him to developing an expertise in corporate governance and working with Boards to improve their effectiveness and performance. Ian has been involved in numerous Board evaluations, both internally and externally, including one for a FTSE 100 company.
In our latest Winning Business Digest, 7 ways to a really effective Board, Ian explains how board evaluations can benefit professional services firms to improve both the performance of the team at the top, and the firm as a whole.
In doing so, he shares a practical seven point plan to help professional services firms ensure their Board or senior team is highly effective.
Contact us for a complimentary copy of the Digest or to find out more about Ian's Board evaluation coaching and consultancy.