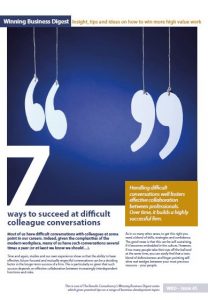 Most professionals have to hold difficult conversations with colleagues at some point in their career.
The ability to have effective, future-focused and mutually respectful conversations can in fact be a deciding factor in the longer-term success of a firm – and an individual.
This is particularly so given that such success in today's firms depends on effective collaboration between increasingly interdependent functions and roles.
To turn difficult colleague conversations into a beneficial experience for all concerned, professionals need a blend of skills, courage, strategies and confidence.
In our latest Digest we share 7 practical approaches to ensure that difficult colleague conversations are handled well. We can all improve our approach in this critical area of professional skill – what might you take away from Dan Leatherdale's insights?
Please contact us if you would like to receive a complimentary copy or to find out more about our training and coaching work in this field.