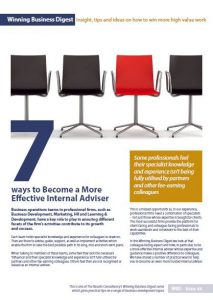 Business operations teams in professional firms are well-placed to become internal trusted advisers. Their specialist knowledge and involvement across the firm's teams means they can steer colleagues to take the best courses of action.
At the same time, they can avoid parts of the firm reinventing the wheel, duplicating effort or missing out on economies of scale.
Lacking 'influence'
When talking to business operations professionals, some say they lack the necessary 'influence'. They also raise concerns that their specialist knowledge and experience isn't fully utilised by partners and other fee-earning colleagues. Others feel they are not recognised or valued as an internal adviser.
This is a missed opportunity. In our experience, the most successful firms provide the platform for client-facing and colleague-facing professionals to work seamlessly and cohesively to the best of their capabilities.
How to become a more effective internal trusted adviser
In our latest Digest we explore what's needed to become a more effective internal adviser and how business support/operations professionals can ensure their advice and guidance is valued.  We also provide advice on how they can build greater rapport and trust with colleagues and enhance their reputation within the firm.
Please contact us if you would like to receive a complimentary copy or to find out more about our training and coaching work in this field.