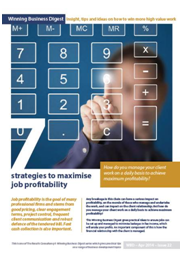 Job profitability is the goal of many professional firms and stems from good pricing, clear engagement terms, project control, frequent client communication and robust defence of the tendered bill. Fast cash collection is also important.
Any breakage in this chain can have a serious impact on profitability, on the morale of those who manage and undertake the work, and can impact on the client relationship.
But how do you manage your client work on a daily basis to achieve maximum profitability? In this month's Winning Business Digest we were delighted to team up with Chris Ward at Ranmore Consulting.
The digest gives practical ideas for ensuring jobs are set up and managed to minimise leakages in fee income, which erode profits. An important component of this is how the financial relationship with the client is managed.
This Winning Business Digest has been written by John Timperley and Chris Ward. Contact results@winningbusiness.net or tel 44 (0) 20 7488 4419 for a copy.