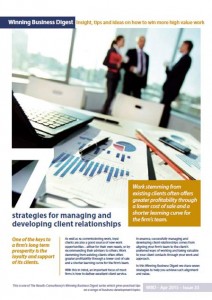 As well as re-commissioning work, loyal clients are also a good source of new work opportunities – either for their own needs, or by recommending their advisers to others.
Work stemming from existing clients often offers greater profitability through a lower cost of sale and a shorter learning curve for the firm's team.
With this in mind, an important focus of most firms is how to deliver excellent client service.
In essence, successfully managing and developing client relationships comes from aligning your firm's team to the client's preferred ways of working and being valuable to your client contacts through your work and approach.
In our latest Winning Business Digest we share seven strategies to help you achieve such alignment and value.  Contact us for a copy of the Digest.