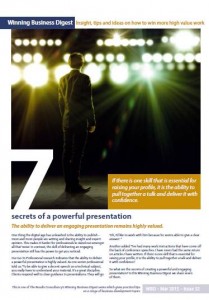 If there is one skill that is essential for raising a professional's profile, it is the ability to pull together a talk and deliver it with confidence.
The ability to deliver an engaging presentation still remains highly valued and admired and, done well, has the power to get you noticed.
In addition to developing their skills and confidence in delivering presentations, many professionals recognise that with business presentations it is important that all the effort leads to something.
How then do you create a presentation which enhances your reputation and also brings you the outcomes and results you want? How do you motivate an audience to actively take the next step you'd envisage when you set out creating the presentation?
Our latest Winning Business Digest shares the secrets behind powerful business presentations and gives practical tips and techniques to adopt. Contact us for a copy of the Digest.