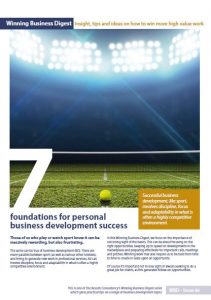 Successful business development, like sport, involves discipline and focus.  In an increasingly competitive and changing environment, it also requires adaptability.
In our latest Digest, 7 foundations for personal business development success,  Andrew Warren gives a helpful and timely refresher of the basics for effective BD.
Mastery of these foundations enable a professional to distinguish themselves in the market, build a strong network and successfully convert new work opportunities.
As many professionals look back on their BD effectiveness in 2016, Andrew shares practical ideas and ways to improve performance in the year ahead.
Please contact us if you would like to receive a complimentary copy or to find out more about our BD training, e-learning and coaching work.