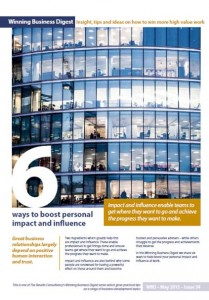 Impact and influence are often a major factor in why some professionals get things done, whilst others don't. These two key ingredients ensure teams get where they want to go and achieve the progress they want to make.
Impact and influence are also core to the success of those people who are renowned for having a powerful effect on those around them and who become trusted and persuasive advisers over time.
But if you are looking to build a successful career, how can you develop impact and influence with your clients and colleagues?Just what are the building blocks which will enable you to become influential and successful?
In this Winning Business Digest we share six impact and influence approaches to help you.  Written by John Timperley and Steven Pearce, the Digest shares practical ways for professionals to:
forge productive relationships with colleagues,
establish trust and confidence with clients so they remain loyal, and
build and lead teams of highly motivated and supportive people.
Contact us for a copy of the Digest . We have also developed a one day master class to help professionals build greater impact and influence at work. Contact us for more details.