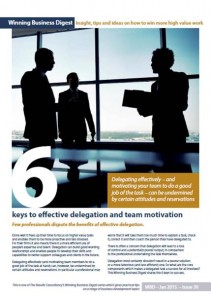 Our latest Winning Business Digest tackles the challenge of motivating and delegating to team members effectively.
Few professionals dispute the benefits of effective delegation. Done well it frees up their time to focus on higher value tasks and enables them to be more proactive and less stressed. For their firms it also means there is a more efficient use of people's expertise and talent.
Delegation can build good working relationships and enables people to develop their skills and capabilities to better support colleagues and clients in the future.
It can, however, be undermined by certain attitudes and reservations. In particular a professional may worry that it will take them too much time to explain a task, check it, correct it and then coach the person they have delegated to.
There is also often a concern that delegation will lead to a loss of control and a potentially poorer output, in comparison to the professional undertaking the task themselves.
Delegation most certainly shouldn't result in a poorer solution or a more laborious (and less efficient) one. So what are the core components which makes a delegated task a success for all involved?
Contact us for a copy of this Digest which shares 6 essential ingredients for effective delegation and team motivation.