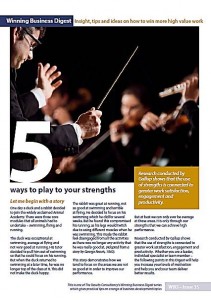 In most areas of people's lives there is a tendency to focus on the areas we are not so good at in order to improve our performance.
At best, however, we can only ever be average at those areas and it is only through our strengths that we can achieve high performance.
Research conducted by Gallup shows that the use of strengths is connected to greater work satisfaction, engagement and productivity. Individuals who work in their areas of strength are more inspired, motivated, engaged and energised than those who focus on their areas of development.
Our latest Winning Business Digest, written by Maria Antoniou, takes a closer look at how to focus on your strengths and apply them in order to achieve greater performance, satisfaction and engagement at work.
Whether you are a leader, individual specialist or team member this Digest will help you increase your levels of motivation and help you and your team deliver better results.
Contact us for a complimentary copy of the Digest.
Maria also runs our Leadership Essentials workshop series to help professionals build best practice leadership and management capabilities.
Download the programme brochure for more information or contact us at email: results@winningbusiness.net or tel 44 (0) 20 7488 4419