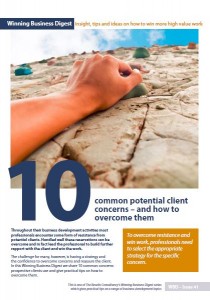 Most professionals encounter some form of resistance from potential clients in their business development. Handled well these reservations can be overcome and in fact lead the professional to build further rapport with the client and win work.
To overcome resistance and win work, professionals need to select the appropriate strategy for the specific concern.
In our latest Winning Business Digest we have shared 10 common concerns prospective clients use. We have also given practical tips on how to overcome them.
 Please contact us if you would like to receive a complimentary copy or to find out more about our training and coaching work in this field.