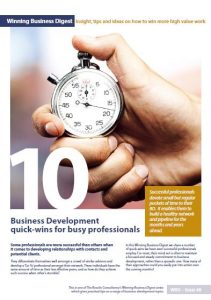 Why is it that some professionals are more successful than others when it comes to developing relationships with contacts and potential clients?
These are the individuals who differentiate themselves well amongst a crowd of similar advisers and develop a reputation for being the 'Go-To' professional amongst their network.
When you look closely they have the same amount of time as their less effective peers, so how do they achieve such success when other's stumble?
The quick-win BD secrets of Go-To professionals
In our latest Winning Business Digest Results Consultancy Managing Director, John Timperley, examines these questions and shares some of the quick-wins we have seen successful professionals employ.
From his research, John has found that the mind-set of most Go-To professionals is often to maintain a focused and steady commitment to business development, rather than a sporadic one.
In the Digest he explains how to be more strategic with your time and approach to BD. He also urges professionals to ensure business development has a regular spot in their working week and is not left as a thing to do, once all other work is done and dusted. This will help to ensure they build a healthy network and pipeline in the months and years ahead.
Contact us for a complimentary copy of the Digest and see how many of the approaches John has shared you could put into action over the coming months.